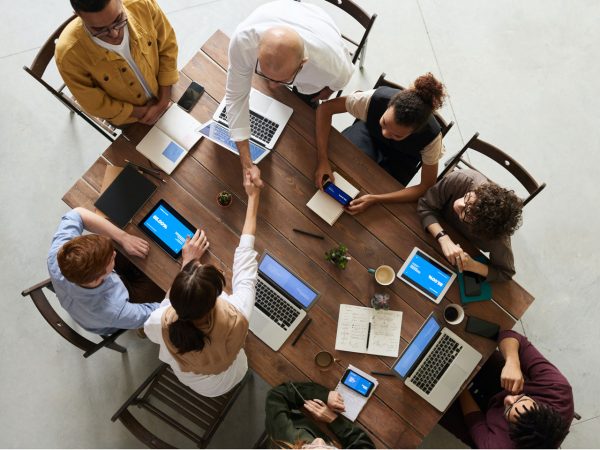 How can leaders build the right foundation of people?
It's been over a decade since Steve Jobs made what would be one of his most cited comments on good business: "great things are never done by one person; they are made by a team of people.
This observation was true before the CEO of Apple gave his take on the value of people. After 30 years of working at large web companies, from Lycos to Google, in addition to co-founding my own tech company, I've found that success almost always comes down to having the right talent. In recent difficult times, this has proven to be particularly relevant.
Rapidly changing market trends, lingering uncertainty and financial strains in almost every industry have underscored the enormous importance of strong teams in keeping businesses on track. While there is no foolproof formula for leaders to hone their human foundations, there are some key steps they can take to build and sustain collective power.
Hire people better than yourself
While we've all heard the advice that a leader shouldn't be the smartest person in the room, there is often too little focus on what's needed to avoid this scenario: a humble hire.
The CEO can be the driving force behind the general management of the company, but that does not mean that he must have the highest level of skills, experience and knowledge in all areas.
Striving to be the ultimate authority creates undue personal pressure, in addition to limiting your opportunities for learning and enrichment. From a business perspective, the company will also miss out on many of the benefits that come with building a talented team.
Finding people who are highly qualified in their field will ensure that they can produce the best results for the organization: in our industry this ranges from keeping product development in step with changing demand to carrying out advertising campaigns. that maximize sales. Bringing together specialists also helps foster a climate of innovation, where workers inspire each other to explore new ideas, try different approaches and continually raise their ambitions.
Plus, it means you can confidently delegate work to those who will do a better job. Along with saving crucial time to focus on smarter strategic decisions, it shows one of the core qualities employees want to see in leaders – confidence within their capabilities.
In short, actively recruiting people whose skillset exceed and grow in your own is crucial to achieving greater collective intelligence, better productivity and growth.
Don't expect others to do something you won't do
Of course, there are still many tasks for leaders. At the grassroots level, setting clear goals and responsibilities is important to support unified progress and provide a sense of purpose: another vital factor for the happiness of the workforce. But it's crucial not to let a strong focus on goals distract from the most vital part of a leader: motivating your team through action.
Bringing together an exceptional group of people is a great start, but unleashing their full potential takes constant work and guidance. In particular, leaders must play their role in embodying the behaviors and cultural attitude that they wish to cultivate.
For example, simple steps such as responding positively to suggestions can be a powerful demonstration of your appreciation for collaborative thinking. It can encourage creative contribution and cement it in the DNA of the company; allowing a horizontal structure that offers equal opportunities to influence the evolution of the company.
During a company meeting, for example, our project manager came up with the idea of ​​developing our own "sandbox", a technological tool that allows to test solutions for online advertising that respects privacy. . The discussion generated a lot of enthusiasm in the team and as a result we have now developed SWAN (Storage With Access Negotiation) and presented it to The World Wide Web Consortium (W3C).
Likewise, fostering a spirit of continuous evolution must also start at the top, with leaders embracing and adapting to change. The past 18 months, for example, have highlighted the need for me to change my own view of remote working. Having previously leaned heavily towards ease of access and the flow of information from physical offices, the pandemic has taught me to recognize the benefits that home connectivity offers our employees.
Throughout my career, I have had the good fortune to work with many people; all of which have proven that the individual skills that each bring to the table are also invaluable. This is why the last point for any leader to remember is this: Aim to find and develop the best talent possible – and leave your ego at the door.